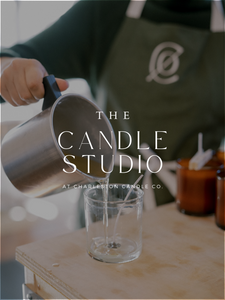 Candle Classes
The Candle Studio at Charleston Candle Co.
Learn the fun process of candle making where you'll mix and create your own custom scented soy candles with a selection of 24 curated fragrance oils to choose from. Participants will take home two of candles with their custom scents.
We offer small candle classes at our Flagship store in downtown Charleston. Create unique candles and memories with a private class or join one of our upcoming ticketed classes.
See below for our candle class schedule, information on booking a private class, and commonly asked questions.
Private Candle Classes
Host your friends, family, or business group for a fun evening of candle making! Each participant will create two custom scented candles. See below for details and reach out to info@charlestoncandleco.com for availability and to book your class!
Party minimum of 6 people and maximum of 12 people
Parties are welcome to bring their own food and drinks*, but any trash must be cleaned up and taken away at the end of the class. You will need to provide any plates, utensils, cups, etc. but we will provide a small bar cart/table to hold and display any food and drinks.
Classes can be held Monday-Saturday, but please note that candles must dry overnight, and we are closed on Sundays (shipping is available for those unable to pick-up the following business day). Dates are subject to availability.
Payment: There is a 20% deposit required to hold a class date and is refundable up until 2 weeks before the class. Final payment is due the day before the class.
Reach out to info@charlestoncandleco.com with any questions and to book your candle class!
*Alcohol is not allowed on site, but we are surrounded by some great restaurants and bars to visit before or after your class!